💕 SELECT STYLES UP TO 40% OFF & FREE SHIPPING ON ALL ORDERS ABOVE $100! 💕
*Minimum purchase $75. All sales final.
In The Loop: Summer Reading!
We are easing into summertime, and as schools wrap up the semester, and pants turn into shorts all around, we asked the Loop co-founders what's on their summer reading list!
iPad, Kindle, or print?
Heather: Kindle for iPhone, print AND Audible! I have one of each going at all times – if I'm not working, I'm either on WeChat or reading! 
Itee: Ditto for the reading options, though Audible strictly for non-fiction and great orators like Barack Obama.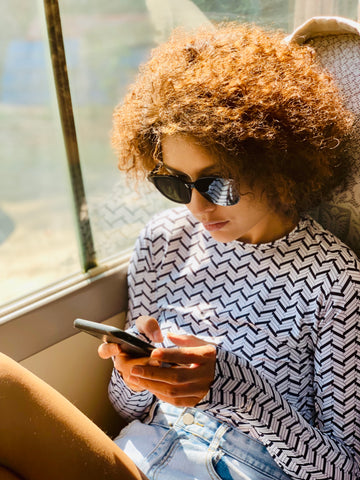 Kindle for iPhone and Loop Stacks Rashie for reading
and UPF50+ sun protection on your daily commute!
Last page-turner?
Itee: The Push by Audrey Audrain on Kindle (extremely intense and anxiety inducing page-turner!) and Empire of Pain: The Secret History of The Sackler Dynasty by Patrick Radden Keefe on Audible.
Heather: The Four Winds – Kristin Hannah (Audible) and The Truth About Her – Jacqueline Maley on Kindle. I also LOVED Empire of Pain!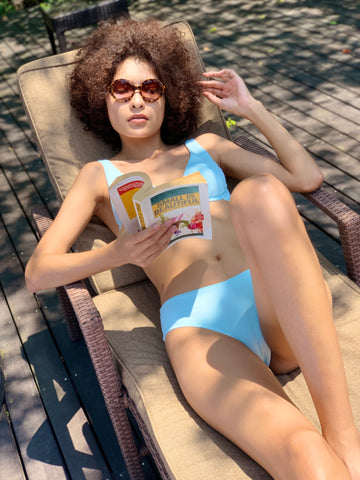 Can you remember the first book you loved?
Heather: The Mists of Avalon – OBSESSED at age 14!!!! My daughter won't read it.
Itee: Open by Andre Agassi. I'd read loads until then, but that book has stayed with me since. Especially as tennis is one of the only sports my family and I truly enjoy watching together.
Is "bestselling" a mark of quality or groupthink?
Heather:  Neither. I expect a sticky story with bestsellers - think Little Fires Everywhere or Where the Crawdads Sing. But usually bestsellers aren't great literature, and so usually only when I want a page-turner do I go the bestseller route. Most of the time I'd rather read something more off-beat and exquisitely written.
Itee: I think it can be a bit of both (eg: Sapiens by Yuval Noah Harari), and sometimes it's just timing.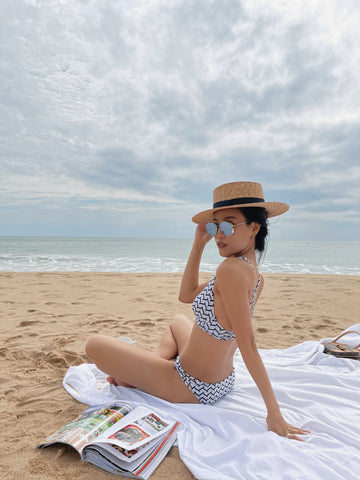 Shop our Black and White Stacks Bikini 

here

!
Can you be both well-read and naive?
Heather: Of course!!
Itee: Yes! That's why it's so important to keep reading!
What's next on your combined list?
The list is long but here's the latest releases we want to get to!
Fiction:
Sorrow & Bliss by Meg Mason
Infinite Country by Patricia Engel
The Midnight Library by Matt Haig
Non-fiction:
The Spare Room by Emily Chang
Crying in H Mart by Michelle Zauner
The Day The World Stops Shopping: How Ending Consumerism Saves the Environment and Ourselves by J. B. MacKinnon
Chatter: The Voice in Our Head, Why It Matters, and How To Harness It by Ethan Kross
Take Loop poolside with your favorite book this summer! Staycay, vacay – it's all good!
Read more
Comments
✕