💕 SELECT STYLES UP TO 40% OFF & FREE SHIPPING ON ALL ORDERS ABOVE $100! 💕
*Minimum purchase $75. All sales final.
How to Celebrate World Ocean Day
We're always asked about how we come up with ideas for our signature prints. Some of them come from our imagination, and many are inspired from our travels, books we have read, museum visits, our immediate urban dwellings and our longing to be one with nature.
 This week we highlight the latest addition to our Loop library – The Fishbowl!
Launched close to World Oceans Day, it is inspired by our love for the underwater world and celebrates the beauty of our oceans. Fishbowl is a tribute to one of our favorite creatures, the puffer fish. It was created in style and colors drawn from Ukiyo-e Japanese prints and finally imposed in random clusters on the Pantone Color of the Year – Classic Blue, or as we call it – the Sapphire.
Loop Tip: This print pairs back beautifully with our other solid pieces in Sapphire and Coral.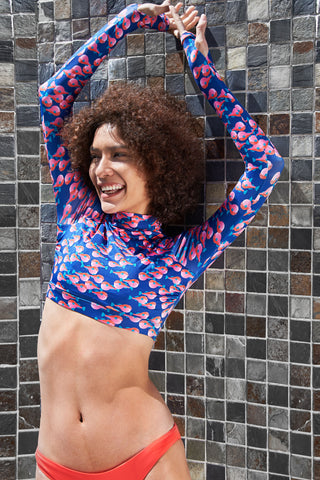 One of our newest favorites is our new Robyn Crop Rashie in the Fishbowl print. Blocking 98% of UVA and UVA rays, it offers UPF50+ sun protection and not only saves your skin but also reduces the amount of sunscreen in our oceans. Beyond the beach, pack for the perfect mountain hike, yoga class, or ski trip. More than just sun protection, this is your new go-to base layer.
With this annual event, we honor our shared oceans through protection and restoration programs and activities. From its beginning in 1992 until today, World Oceans Day has come a long way from an idea, to being recognized by the United Nations, to a global event now celebrated in over 140 countries. Not sure how to mark this unique day? Here are 6 simple ways you can leave a positive impact:
Binge Watch!
Educate yourself and stay informed through binge watching some ocean documentaries! Here are some of our recommendations: Blue Planet (I & II), Planet Ocean, A Plastic Ocean, Chasing Coral, Blackfish, Mission Blue, Sushi: The Global Catch.
Fish are friends, not (overfished) food


Although we're not telling you to cut out fish from your diet, overfishing is one of the biggest threats facing our oceans today. According to WWF, 60% of our fish stocks are fully fished and 29% already overfished, often by many large corporations. To help minimise this, shop local small fish and research brands to make sure their values involve fishing sustainably.

Watch out for ocean-damaging ingredients


Did you know the sunscreen that you packed for your beach trip actually contains ingredients, such as oxybenzone and octinoxate, that damage coral reefs? To protect yourself and reefs, make sure your sunscreens are mineral based, using zinc oxide or titanium dioxide, instead.  Or better yet – wear a Loop Swim UPF50+ rashie!

Scavenge for beach trash and treasure


Essentially, this would be a beach cleanup, which may not sound too exciting – but add a scavenger hunt twist and you've got a great game for all ages! Also check out 'plogging', which entails picking up trash during your daily run.

No to Single-Use Plastic
As plastic pollution is one of the biggest threats to our oceans, this is an obvious one. Besides avoiding plastic bags, bottles, straws and utensils, there are other ways to reduce your plastic waste. Plastic can be converted and recycled into many things, including fabric! Here at Loop Swim,  our UPF50+ swimsuits are made from recycled PET plastic bottles, which would have ended up in landfills or oceans. What's more, we will also recycle your swimsuit at the end of its useful life. Shop now at www.loopswim.com !
Donate (Sharing is Caring)
Still want more ways to help our oceans? The easiest way would be to donate to World Oceans Day directly through their collaborations with different organizations and individuals around the world. Our oceans and future generations to come will benefit from any generosity.
Though seemingly small and insignificant, remember that every act counts towards saving the oceans that connects us all together. Happy World Ocean Day!
Read more
Comments
✕