💕 SITE-WIDE DISCOUNTS! UP TO 50% OFF WITH CODE HOLIDAZE*! 💕
*Minimum purchase $75. All discounted sales final.
Loop Swim Celebrates World Water Day
What is World Water Day?
 World Water Day, is an annual UN observance day and it is all about raising awareness around the world's (fast) shrinking freshwater supply. Designated in 1993 by the UN, it promotes sustainable practices for the conservation of freshwater resources around the world.
Some key facts
You might think that Loop's obvious connection to water is our love for the oceans, and while you are correct – we are an ocean, nature and planet loving brand, and want nothing more than for future generations to be able to enjoy the wonders underwater without it being overrun with plastic pollution; we are also a part of the infamous fashion industry.
Thirsty and polluting, the fashion industry is one of the world's largest consumers of freshwater globally, right after oil and paper. Fashion has historically required huge amounts of water at various stages of the garment cycle from fiber and textile manufacturing, right up to wash care for garments. Making these processes more efficient and less water intensive would bring relief to about 30% of the global population living in water-stressed areas around the world that need it and have a right to clean water for drinking and sanitation.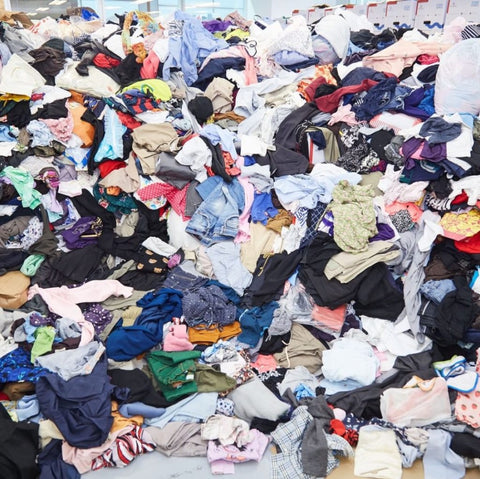 Photo credit: @getredressed
"The fashion industry uses about 2% of all freshwater in the world; more than one tenth of the water used by all other types of industry.
Based on current statistics, the water used by the industry is set to double by 2030.
According to Global Fashion Agenda and The Boston Consulting Group (2017) Pulse of the Fashion Industry Report, the fashion industry currently uses enough freshwater to support the drinking water supply for 110 million people for an entire year.
85% of this is used in chemical dyeing and textile processing which leads to polluting run-off in the water supply of neighboring areas.
It takes 2,720 litres of water to produce just one cotton shirt and 7,600 litres to produce a pair of jeans."
What are we doing about this at Loop?
While we always want to educate our consumers to make better choices, we think it is time we shed some light on our best practices as a business in this industry. After all, shorter showers can only go so far, and we believe the biggest change must be led by one of the biggest consumers of freshwater.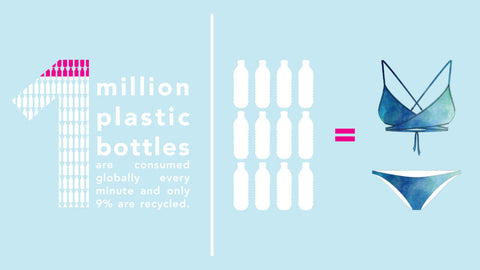 Our swimwear is made from recycled plastic bottles – a resource that is overrun at this point. Recycled PET (rPET) uses significantly less water than cotton and less water than making regular polyester. How? Because regular polyester is a petroleum-based product that requires huge quantities of water and chemicals for its extraction.
We use a certified and traceable rPET yarn from Unifi called REPREVE™; a brand that supplies rPET yarn to sustainable fashion heavyweights like Patagonia, Nike and Mara Hoffman. By recycling plastic bottles into new polyester yarn, they have saved enough water to provide 1.7 million people their daily drinking water for a whole year!
Our fabric is printed digitally, which means there's no extra ink used in the process, just the exact amount needed for a particular order. It offers a greener advantage compared to screen printing which has more chemical waste. Additionally, it eliminates the substantial amount of water required for screen preparation, printing and clean-ups after the process.
A special treat for your support in our mission to #protectwhatyoulove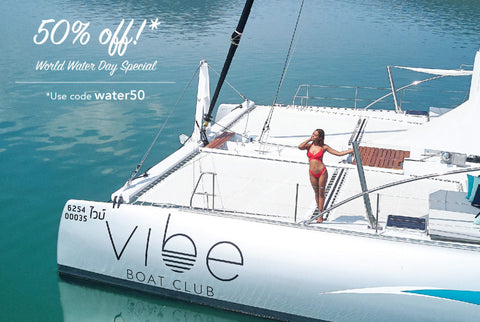 To thank you all for your support and as a World Water Day special, we are offering a flash sale on all our new products purchased from our website! All items (online only) will be available at 50% discount!*
*We will offer exchanges or store credit if there's any issues, but no refunds.
Read more
Comments
✕